Burger Wars April 2017!

This year Burger Wars is back and we are bigger and better with even more burgers to sample throughout the Valley!
For every designated burger sold between April 1 – 30, 2017, $1 will be donated to Campaign for Kids to help financially disadvantaged kids in need in Kings County.

List of participating restaurants
Restaurant

Burger Name

Description

Location

Farmer Burger

Over an inch thick fresh patty on a fresh in-house homemade bun, loaded with all the fixings you desire! Bacon, cheese, lettuce, tomato, onions, pickles, ketchup mustard and relish! Served with a side of fries and homemade coleslaw.

Aylesford

Monterey Pepperoni Burger

An all beef patty topped with melted Monterey jack cheese, deep fried pepperoni and sweet honey mustard sauce, garnished with a deep fried dill pickle spear.
Includes a side of fries and coleslaw

Berwick

The Italian Stallion

Garlic cream sauce, roasted red peppers, old cheddar & parmesan chip, crisp smoked bacon, siracha mayo & fresh all beef patty.

Berwick

Spicy Mango chicken burger

Havarti, jalapeño stuffed chicken schnitzel burger with mango jam, lettuce & tomato on a fresh kaiser bun.

Berwick

The Heart Attack

4 cheese stuffed patty, with lettuce, tomato, caramelized onions, bacon and Havarti, on a jalapeño cheddar bun with sundried tomato mayo.

Berwick

Big Wig's Family Diner
Pink Pagoda Burger
A triple 'A' grade beef burger topped with swiss and candied bacon, garnished with cranberry orange mayonnaise, caramelized onions, tomato jam, romaine tossed in lemon oil and pickled cucumber. Named after Dr James Garrow for his involvement in charity work overseas. Beef and Bacon from The Canning Village Meat Market.
Canning

Mediterranean Burger

pickled red onions, roasted red pepper, prosciutto, whipped goats cheese with basil and an olive tapenade aioli

Canning

Breakfast burger

a cheeseburger with real cheese, bacon ,egg , peanut butter and syrup .

Coldbrook

Bacon maple whiskey burger

2 bacon and cheese stuffed paddy with bacon jam, and jamesons whiskey BBQ sauce

Coldbrook

Orchard Hamburguesa con queso

Oultons fresh ground beef served
With a avocado cilantro mayo garnished with lettuce,
pico de gallo (farm fresh salsa), chili lime onion shoestrings
And a blend of melted cheese with a side of
Golden fries.

Greenwich

The Smokin' Oaken

Featuring a cheese stuffed seasoned Angus Beef patty, loaded with house made BBQ aioli using bad apple's award winning smoked porter for a bold smoky flavour, topped off with battered crispy fried onion pedals, all inside a toasted bun

Greenwood

Pascalice's Fried Chicken & Waffles Burger

Crispy fried chicken, and top it with caramelized onions, bacon mayonnaise, spiced Havarti cheese, and sweet pickles. We take all that goodness and rest it in between two homemade rectangular waffles

Greenwood

Sweet Roasted Corn Chipotle Burger

Carmalized onion patty. Shredded lettuce, Chipotle mayo, Tomato, Mozzarella cheese, Roasted Corn Salsa.

Kentville

Donair Burger

Fresh made donair burger with onion,tomatoes Smothered with donair sauce and can add cheese for an extra $1.00

Kentville

The Perfect Pretzel Burger

6oz grass fed, all beef burger
Sliced Montreal smoked meat
Topped with Paddy's own "Bacon Jam"
Swiss cheese
Onion rings
Lettuce
Montreal steak spice infused mayo
on a toasted pretzel bun

Kentville

Angie's Family Restaurant

Fetachedda

Garlic toast bun, bacon, cheddar, feta cheese on a beef patty. With ketchup, mayo, mustard, pickles, tomato and topped off with caramelized onions.

Middleton

Big Scoop Skippy Burger

1/4 lb beef patty with mozza & cheddar cheese, ketchup, mustard, relish, onions, lettuce, tomato, mayo, pickles, bbq sauce and bacon.

Middleton

The Big Popper

10oz al beef patty topped with our own cheese blend that has hint of jalapeños and a touch of sweetness, as well as caramelized onions and a Whisky BBQ Sauce. Served on a garlic brushed pretzel bun. The side is crispy seasoned fry topped with fresh parmesan cheese and herbs, served with a roasted garlic aioli on the side

Middleton

Bacon Mac and Cheese Burger

It has lettuce, tomato, Chipotle mayo,deep fried mac and cheese bacon and smoked cheddar. Price will be $14.00

New Minas

Taco of the Town Burger

Lean ground beef seasoned with spices from Chrystal's Pantry, crispy lettuce, diced tomato, shredded cheddar cheese, sour cream and salsa on a mouthwatering toasted homemade bun. Served with Nacho Chips and Guacamole.

New Minas

Black Bean Burger

The Cotton Tale Beanie Burger is made with roasted black beans, cashews, garlic and feta, topped with Balderson old cheddar, tomato, kale, caramelized onion and garlic aoli and served on a naan bun. Accompanied by choice of side: soup of the day or kale beet salad.

New Minas


Jungle Parmesan

Chicken fried burger topped with salsa, baked mozzarella cheese and crisp basil leaves on a brioche bun with bruschetta mayo.

New Minas

McGills Burer Wars Trio

Three unique styles served on mini pretzel buns & accompanied by spice kimchi & fresh kale slaw.
Ground Wagyu Style Beef: alfalfa sprouts, crispy shiitake & Roma tomato
Bison Burger: Gorgonzola, jalapeno aioli & bourbon BBQ sauce
Valley Rabbit Burger: Boston lettuce, wine poached pear & honey BBQ sauce

New Minas

Starr's Point Loopy Rancher

¼ lbs Starr's Point Grass Fed Beef, Siracha Spiced Ranch, Oulton's Double Smoked Bacon, Crispy Cajun Fried Onions, Cheddar Cheese, Shredded Lettuce, Tomato, Pickle, Brioche Bun

Port Williams

Blomidon Inn

Blomidon Burger

5oz ground beef patty on a house made brioche bun with sautéed mushrooms braised red wine shallots, cheddar cheese, arugula & horseradish siracha mayo.

**PLEASE NOTE: This burger is available ONLY at lunchtime

Wolfville

Bombay Burger

Fresh grass fed ground beef from Wild Mountain Farm in Canning Greek yogurt garam masala house made raisin ketchup house made pico sauce lettuce Toasted Naan bread as the bun.

Wolfville

The Valley Vegan Burger

a black bean burger topped with a sesame slaw, micro greens and vegan sriracha mayo served on a toasted bun

Wolfville

Lamb Burger

A mouth watering 6oz Lamb patty with crisp lettuce, tomatoes, red onions, cacik and loaded with feta cheese.

Served with Troy Peppered French Fries.

Wolfville
The 2016 Burger Wars winner, based on votes that have come in the Old Orchard Inn for their Sriracha Burger!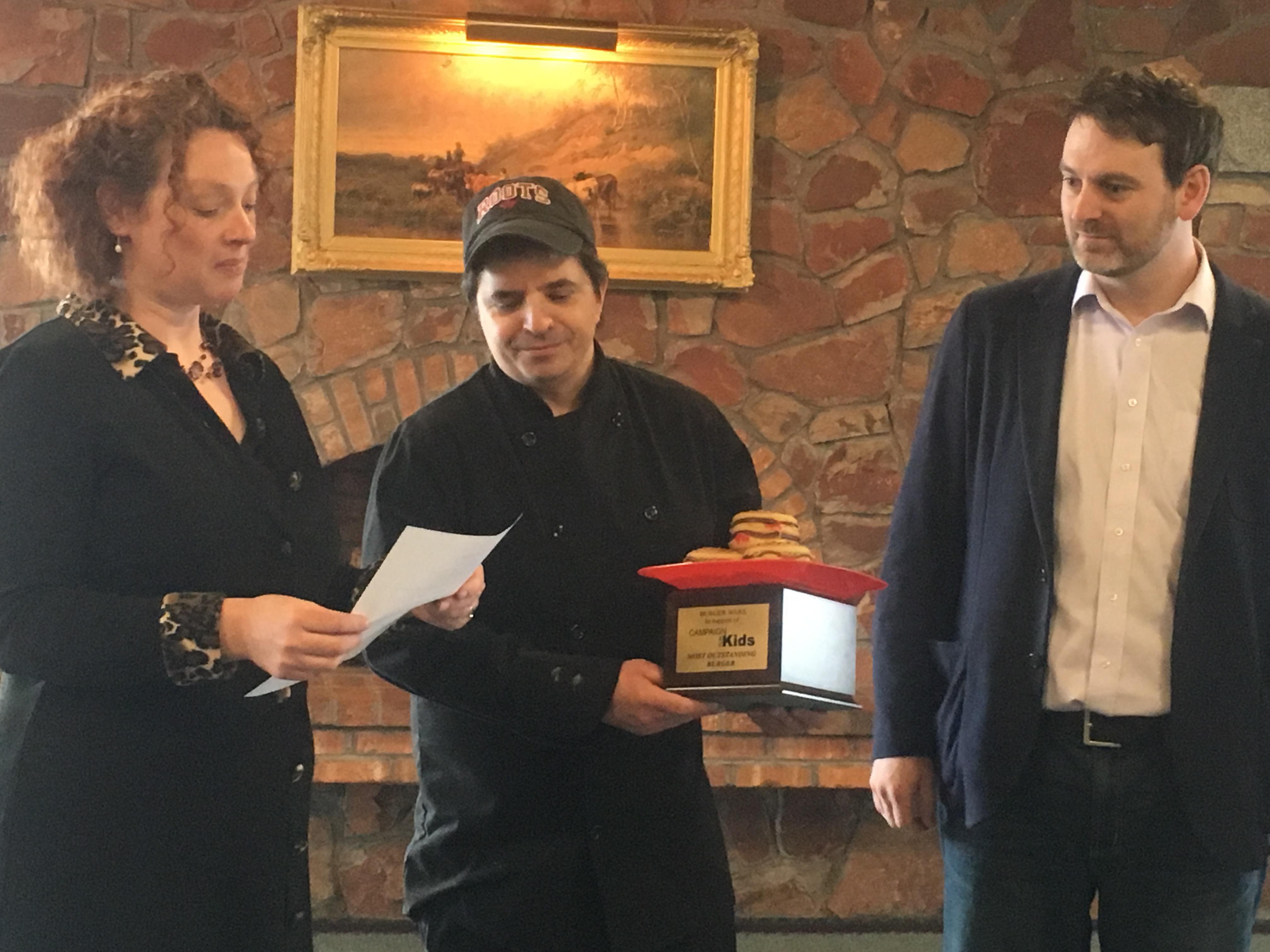 Campaign for Kids Board members Andy Forse and Laura Churchill Duke present chef Joe Gillis from the Old Orchard Inn with the trophy for the 2016 winner burger in Burger Wars[/caption]Campaign for Kids Board members Andy Forse and Laura Churchill Duke present chef Joe Gillis from the Old Orchard Inn with the trophy for the 2016 winner burger in Burger Wars
Catch us in the News