Where It's At, Burger Tours – 2023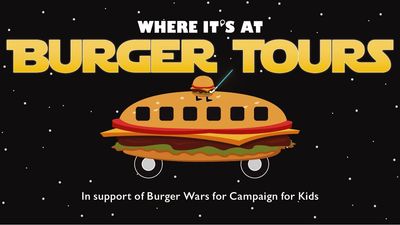 Belly on up to the participating, mouth-watering, Burger War restaurants for half-servings of their 2023 entries.
DETAILS:
– 2 tours available: Burgers Only, or Burgers & Beverages
– Various tour sizes: Mini (2 locations), Small (3), Medium (4), Large (5), X-Large (6), & Jumbo (7)
– Available all April at 1pm, 7 days a week, up to 48 hours in advance
– Private tours only, for 1 to 6 guests
– Custom itineraries from a list of participating Burger Wars establishments, receive half-burgers of their 2023 submissions
– Custom departure & return locations. From Wolfville, fuel charges applied on tours over 40 total kms
INCLUDES:
– Half-servings of the Burger Wars offerings, not full burgers.
– Burgers & Beverages includes the first round of regular-sized drinks (alcoholic or not) at each location.
– Guided transportation, chilled bottled water, tour organization, & digital pictures of your adventure.
– $1 donation per burger to the Campaign for Kids.

– Please contact us at the time of purchase for ANY FOOD RESTRICTIONS.