Burger Wars 2018
And the Winner is…
The 2018 winner of the People's Choice Award is the Capitol Pub in Middleton for their Double-Down Burger!
Runner up is Troy in Wolfville!
Read about it in the Advertiser!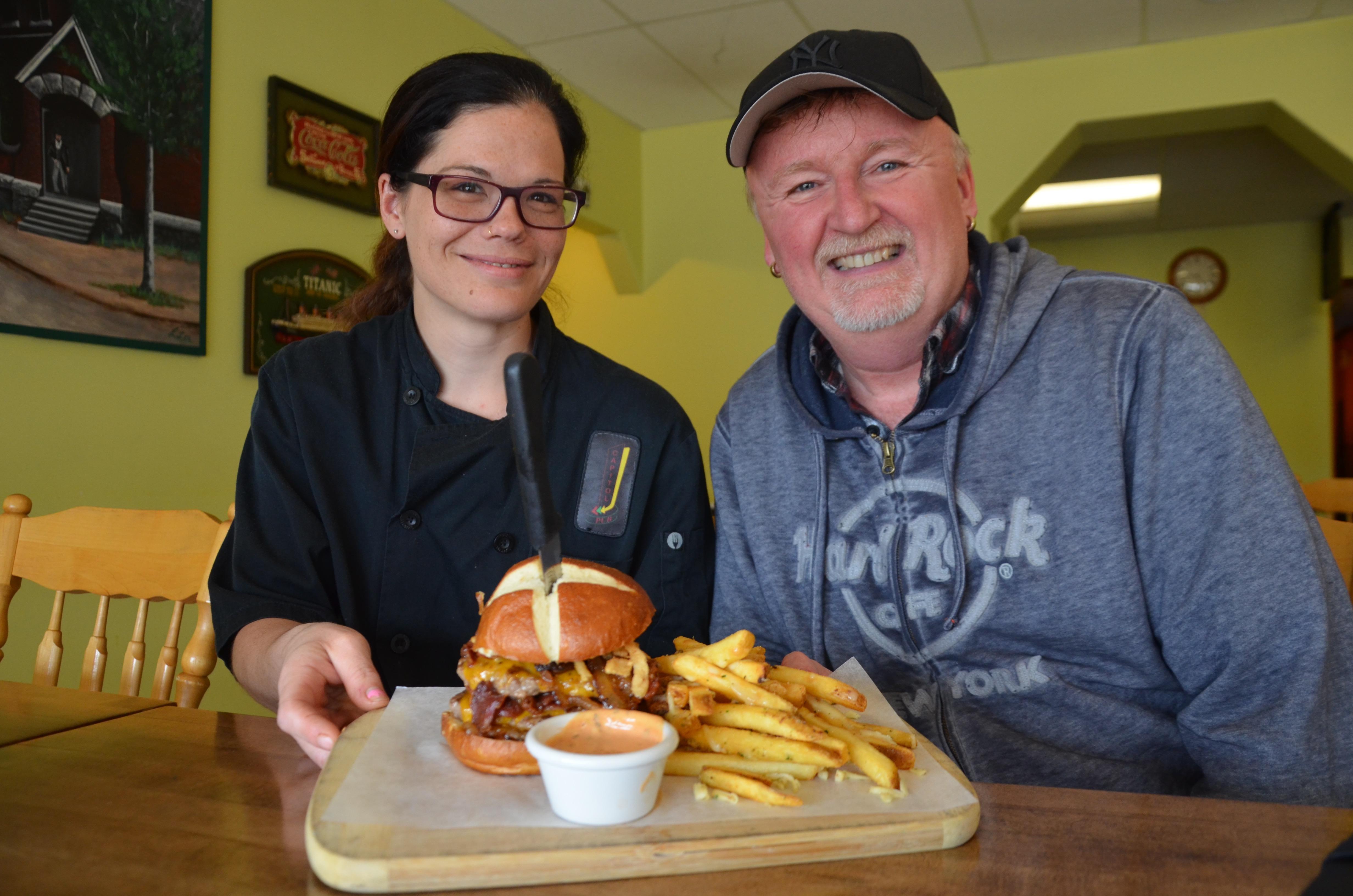 Quick Links
Stay up to date by following us on Facebook! 
Print your passport and take it with you as you visit our participating Burger Wars Restaurants.
For each restaurant you visit, you will get a stamp. For every 5 restaurants you visit, you will receive 1 ballot. Send in your passport by May 5, 2018 for the grand prize, drawn on air with K-Rock 89.3 in early May.
Send photo or scan of your passport to info@campaignforkids.com
Mail to:
Campaign for Kids
Box 201, Kentville, B4N 3W4
Map to the burgers!
Thank you to our Burger Wars sponsors!
The Quarterdeck is proving the grand prize for the Burger War Passport winner, Waterbury Newton Law firm is sponsoring our K-Rock ads and JR Mahoney in Sydney is providing a prize to the winning chef and K-Rock 89.3 is our media sponsor for the 3rd year in a row!

Burger Wars Restaurant 2018
Restaurant
Burger Name
(Click on each name to see burger image)
Burger Description
Restaurant Location
Farmers' Family Diner
Farmer Burger
Over an inch-thick fresh patty on a fresh in-house homemade bun, loaded with all the fixings you desire! Bacon, cheese, lettuce, tomato, onions, pickles, ketchup mustard and relish! Served with a side of fries and homemade coleslaw.
Aylesford
Myrtle and Rosie's Cafe
Cowboy Burger
It is a half pound of grade A beef smothered in cheese. The patty is topped with 2 thick slices of bacon and layered with crispy
onion rings. All of this between a freshly grilled Telera bun loaded with our sweet
chilli sauce. This is served with coleslaw and our crisp seasoned fries.
Bear River
Cider Press Café, Wheatons
The Apple Capital Chicken Burger
CHICKEN breast grilled with apple butter, caramelized onions, bacon & smoked cheddar on top, our homemade burger bun
Berwick
Driftwood
Beer Battered Burger
All beef patty coated in beer batter and fried golden, topped with mozzarella cheese, relish, ketchup, mustard, mayo, lettuce, tomato and crisp onion rings. Served on a fresh home-made bun.
Berwick
Jonnys Cookhouse & Dairy bar
Korean Seoul Burger
Freshly baked bun , sweet and spicy Korean sauce, fried egg, crispy fried onion, freshly ground beef and homemade crunchy coleslaw
Berwick
Kellocks
Stuffed Pretzel Burger
Mushroom, bacon mozzarella stuffed patty, arugula, fried leeks, red onion jam, and truffle garlic aioli served on a toasted pretzel bun served with your choice of regular fries or pickle fries
Berwick
Union Street Café
Old MacDonald
Made with a Meadowbrook Bork patty and a crispy Southern fried breaded chicken breast, served on a potato scallion bun. Dressed with lettuce, tomato, cheese and homemade Bad Apple Cider BBQ sauce, and topped off with a skewered bacon wrapped and deep fried breaded pickle spear
Berwick
End of the Line
Station 12 Burger
Avacodo puree, smoked gouda, Jack Daniel's candied bacon, onion and mushroom jam, 5oz beef patty on a potato scallion bun.
Bridgetown
Temple on Queen
Stinkin Hot
D'Aubin Family Meat's fresh local ground beef, local smoked bacon, kimchi aioli made from Pelton's eggs and Riverview farms, topped with blue cheese and arugula on a cheddar kaiser....not for the weak oh heart.
Bridgetown
**This restaurant is only open to the public on Fridays from 5-10, April 13, 20, 27
Sourdough Bakery and Windmill Cafe
The Dutch Day Starter
A house-made cheese bagel topped with a locally-sourced PORK sausage patty, caramelized onions, Gouda cheese, a sweet and tangy date aioli and a egg fried to the customers choice
Cambridge
(available until 11am)
Crystanys Brasserie
Inside Out Cheeseburger
Gluten Free. Stuffed with smoked Gouda, topped with in-house made relish, hickory smoked ketchup, lemon vinaigrette tossed chefs greens, mayo and tomato
Canning
Degraaf's
Degraaf's Dutch Touch

A garlic toasted brioche bun, nestling a 8oz burger patty topped with 4 cheeses, onion rings, lettuce , tomatoes, pickles & a seasoned mayo.
Canning
Callisters Country Kitchen
Piña Colada Teriyaki Burger
Served with pineapple, bacon, onions, lettuce, tomato and cheese, teriyaki sauce and piña colada sauce
Coldbrook
Roof Hound Brewing Co.
Beet it

Roof Hound Brewing Co test kitchen brings you Beet It. In house baked beet juice bun. 5oz patty made with a blend ground beef and local pork raised on our spent brewing grains from Driftwood Farms. Topped with fresh mozzarella, beet greens, house marinara sauce, garlic aioli and pickled beets.
Digby
Sydney Street Pub
Sydney Street Burger
Our signature burger. A juicy burger from Windy View Farm raised meat. Topped with bacon, Swiss cheese, pickle, lettuce, tomato and a jalapeño mayonnaise. Served with a house made coleslaw and your choice of potato or Jasmin rice pilaf.
Digby
Old Orchard Inn
Pierogi Burger
Fresh and local ground beef garnished with sweet caramelized onions, shredded lettuce polish dill crispy potato cake, melted cheddar cheese and brush of beet and horseradish Aioli. Served on a bakery bun accompanied by Potato skins and dill sour cream.
Greenwich
Oaken Barrel
Barrel Whiskey Glaze
The best mix of sweet and savoury featuring a 6oz seasoned certified angus beef patty, smothered in a whiskey glaze, topped with lettuce, bacon and caramelized onion, inside a soft shallot bun lightly tossed with garlic butter
Greenwood
Pascalice's Bistro
Pulled Pork Donut Burger
PORK. Another unique pairing from Pascalice's Bistro. Succulent pulled pork, mixed with sweet BBQ sauce, and top it with thick melted marbled Cheddar Cheese. The buns for this saucy burger are our their homemade donuts, that are dusted with chocolate sugar. Paired with their popular hand-cut fries and their new red cabbage slaw, this dish perfectly balances the sweet with the savory
Greenwood
Surf
Pork Apple-Slaw Burger
1/3 lb pork burger patty topped with seared back bacon, Gouda cheese, red onion, a tangy apple slaw and their maple BBQ sauce. The burger will be served with a generous helping of beer battered fries
Hantsport
Half Acre Cafe
MacDonald Mushroom Burger
VEGETARIAN: Mushroom burger with spinach, tomato, caramelized onions, provolone, portobello mushroom and avocado pesto.
Kentville
Hills Grills
The Sneaky Pete
PORK: House-made cheddar swirl bun, house-made mayonnaise, tomatoes, arugula, pickles, fried onions, Meadowbrook maple sausage, Canning Village bacon, and PEI's smoked cheddar. Served with roasted potatoes.
Kentville
Kings Arms Pub
Thai Grilled Pineapple Burger
8oz ground chuck burger seasoned with roasted red peppers and garlic, topped with Thai glazed grilled fresh pineapple and a red Thai sauce, with sliced red onion, shredded lettuce and melted cheese curds
Kentville
Natalino's Pizza
Donair Burger
Served with onion, tomato and smothered in donair sauce
Kentville
Paddys Pub and Rosie's Restaurant
Maple Bacon Jam Twist
6oz sirloin burger, gourmet onion bun, bacon jam, maple bacon spice, bacon, deep fried pickle, lettuce, tomato, provolone cheese, with a buttermilk dill mayo and a sidewinder potato twist
Kentville
Crossing
Bawk-Ba-Gawk
CHICKEN: It's a crispy-crunchy fried, (very juicy,) Sriracha (and buttermilk) marinated chicken breast, on a freshly grilled, house-baked, from-scratch, jalapeño-cheese bun - and then layered with house-roasted red peppers, fresh slices of lacquered (and grilled) fresh pineapple, guacamole, bacon, crispy fried onions, and Sriracha-lime mayo.
Kingston
Lunn's Mill Beer Company
The Fast & The Curious Burger
A winding road of flavours that cross breakfast and supper. We start with our Snair's English Muffin, lightly toasted and topped with our homemade spicy sriracha aioli, Den Haan tomato slice, Black Barn Produce's mixed sprouts, a free range fried egg, Canning Meat Shop smoked bacon, old nippy cheddar cheese slice, a 4oz patty made of ground beef, pork and bacon, our zingy Anvil Porter barbeque sauce, 3 slices of dill pickle and on the bottom bun is our sweet, salty and smoky bacon jam
Lawrencetown
Angie's Family Restaurant
The Focado Burger
1/2 lb burger stuffed with feta cheese, topped with a curry garlic aioli, avocado, cucumber, lettuce, tomato, red onion, bacon and cheddar cheese, served on a toasted brioche bun
Middleton
Big Scoop
Radish Ring Burger
A quarter pound all beef patty on a kaiser bun grilled in garlic butter with bacon, tomato, lettuce, horseradish mayo, onion rings, pickles, cheddar & mozzarella cheese.
Middleton
Capitol Pub
Double Down
2 4oz all-beef seasoned patties topped with cheddar cheese, 6 slices of candied bacon, crispy onions and caramelized onions, all piled on a toasted pretzel bun with a bbq garlic aioli, served along side this mouth watering treat you'll find crisp fries tossed in a special house-made seasoning. Just to bring you over the top, we have added some smoked cheddar just at the right time to turn this fries into cheesy goodness.
Middleton
Applewoods Restaurant
Onion Ringer
Our in-house made certified Angus chuck burger topped with homemade bacon jam, smothered in bbq sauce and cheese curds. Topped with lettuce and tomato and 3 gourmet panko crusted onion rings. Served on a brioche bun.
New Minas
Bryanna's Café and Preserves
Loaded Chicken
CHICKEN: It has savory potato stuffing, cranberry sauce, juicy baked seasoned chicken breast, topped with peas, sweet potato and crunchy coleslaw all in between a warm mouth watering homemade bun. Homestyle gravy for dipping and Bryanna's sweet mustard pickles
New Minas
Cotton Tale Café
Veggie Burger
VEGETARIAN: This burger is made from roasted black beans, onion, garlic, Holmestead feta, and crumbled cashews. Topped with havarti, avocado, aioli, tomato and served on kale lettuce with warm naan bun. Comes with a side of Henny Penny's home made salsa and chips, or Randsland Super Salad.
New Minas
House of Dough
The Bacon Grilled Cheeseburger
Our famous bacon cheeseburger but instead of being in between two buns we put it between 2 grilled cheese sandwiches.
New Minas
Jungle Jims
The Big Queso Burger
6-oz sirloin patty with queso cheese sticks, bacon, lettuce, tomato, red onion and chipotle mayo
New Minas
McGills Restaurant
Black Bean Veggie Burger
VEGETARIAN: Black bean and quinoa patty, seasoned with soya sauce and smoked paprika.  Served on a brioche bun
New Minas
Port Pub
The Starr's Point Mac Royal
2 all grass fed beef patties sandwiched between brioche buns with real cheddar, shredded lettuce, minced onion & pickles and of course special sauce!
Port Williams
Wayfarers
Pulled Pork Sliders
PORK: 3 pulled pork sliders with handcrafted mustard and hop sauce. Topped with a tangy coleslaw. Served with local cheese from Fox Hill Cheese House, which includes fenugreek havarti, jalapeño gouda, Italian herb havarti. A bit of a kick or a mild cheese
Port Williams
Spitfire Arms and Aleshouse
Ancho Philly Cheeseburger
6oz grass fed, local beef patty, on a classic bun, topped with lettuce, tomato, peppers and onions, provolone cheese and ancho chili sauce and dill pickle garnish
Windsor
Joe's Food Emporium
Joe's Deluxe Donair Burger
Joe's Original donair meat, grilled to perfection and smothered in mozzarella cheese on a garlic-toasted ciabatta bun with fresh local sourced lettuces, tomatoes and red onions. Served with a side homemade donair sauce and your choice of fries, pilaf rice, mashed or baked potato. A Donair Lover's Dream in a Bun! 
Wolfville
Li's Wok and Grill
Sweet and Spicy Burger

A 6oz beef patty on a homemade Kaiser. With candied bacon, garlic, provolone, spicy mayo, lettuce, tomato and onion
Wolfville
Naked Crepe
Quinoa Mushroom Black Bean Burger
VEGETARIAN: Quinoa mushroom black bean burger Served in a chickpea crepe with beet flavoured cashew cream, citrus pickled fennel, crispy fried onions and mixed greens. This is vegan, gluten free and delicious! It will be served with their usual side garnish of lettuce carrot and cucumber
Wolfville
Paddys Pub
Paddy Mac Burger
Grass-fed beef mixed with a house-made sausage meat, white onion, shredded green leaf lettuce, red pepper mayo and cheddar cheese on a sesame seed bun
Wolfville
Rolled Oat
Mediterranean Veggie Burger
VEGETARIAN: A falafel patty with roasted red pepper and feta spread, tomato, cucumber, and local sprouts all on a house made bun
Wolfville
Troy
Nova Scotia Lamb Burger
LAMB: 6oz. housemade burger, chimichurri, crisp romaine, fresh tomato, red onion, and our house made tzatziki. Served with fresh cut peppered fries. 
Wolfville
Burger Wars 2017!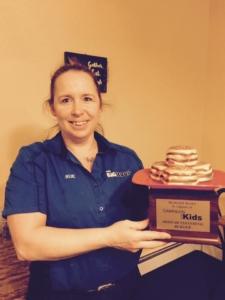 Winner: The Big Scoop in Middleton! 
The Capitol Pub came in 2nd and The Old Orchard Inn came in 3rd. Most Burgers Sold was The Port Pub!
8141 Burgers sold.
$8661 raised.
---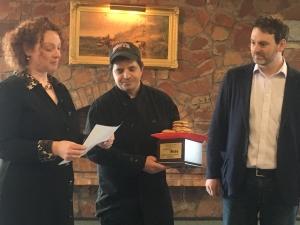 Burger Wars 2016!
Winner: Old Orchard Inn for their Sriracha Burger!
5502 Burgers Sold



Catch us in the News